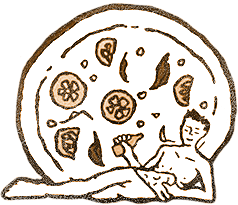 DOWNTOWN VICTORIA'S PLACE FOR PIZZAS THE SIZE OF A CAR TIRE AND SLICES AS BIG AS YOUR FACE.
Great value beer and food in a casual atmosphere that'll make you linger long after the pie has disappeared.
LOCATION, Takeout & DELIVERY
Open everyday
Sun-Th 11:30AM to Midnight
Fri-Sat 11:30AM to 1AM
We now offer delivery from 4:30PM - 10:30PM
7 days per week in the downtown core.
Takeout Orders Until 11:30PM
SUN-TH 11:30AM to 12AM | FRI-SAT 11:30AM to 1AM